Recently viewed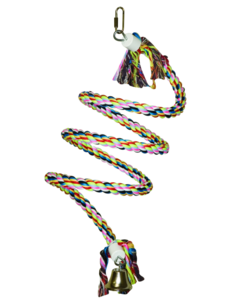 BEAKS! Flexible Rope Boing
C$

14.99

Excl. tax
Out of stock

Unit price: C$0.00
Specifications
Delivery time:
1-2 Weeks for most (Please call for precise restock times)
Information
Beaks! Flexible Rope Boing is "soft & soothing" on your small animal or birds feet and is tightly braided around wire which enables the perch to be "bent and shaped" into almost any configuration. This design hangs from the top of the cage and spirals downward. Its as inviting as a natural tree branch that "bounces and boings" as your pet plays on it.


• Rope perches are also great for older birds, birds with foot/talon ailments and for baby birds that are still developing their motor skills.
• Beaks! Hanging Flexible Rope Boing is also the perfect "cage toy".
• Virtually all birds love the soft climbing and natural bouncing motion of this design.