Find our fish information interactive kiosk in our fish department on your next visit to our London location!
When you next visit Pet Paradise, you will find an interactive kiosk waiting for you in the fish department filled with information on different types of fish and their care. This kiosk was created by
EyeLook Media
with the intention of empowering customers to learn more about fish they are interested in potentially having in their home and to help the selection process by providing information such as diet, water temperature, ph range, behaviour and compatibility, minimum tank size, and much more.
When you first approach this kiosk you are greeted with a fun animated display of bubbles and fish swimming across the screen. To get started, you touch the screen and it opens a vibrant display of all current fish categories staff have chosen to display. The user can browse different types of fish categories, or use the search bar to view individual fish within those categories. When a category is chosen, a new menu opens to reveal full-colour images of the individual fish in that category. The user can then select their desired fish to open the complete information page for that fish, along with QR codes that can be scanned and lead the viewer to products on the website.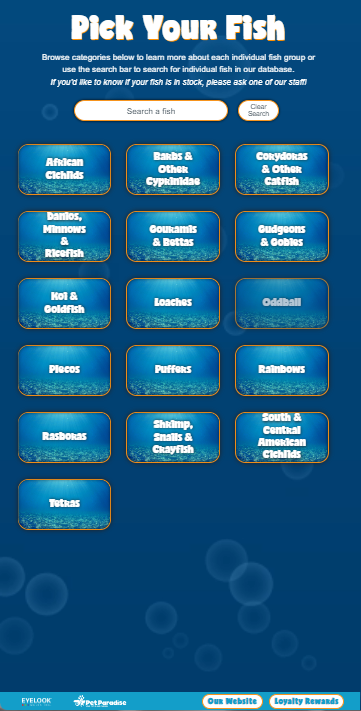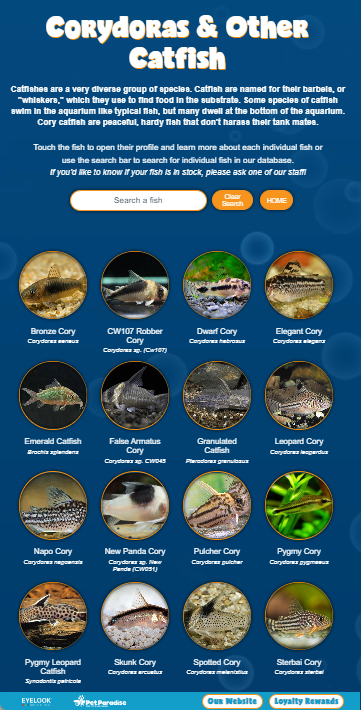 Come visit us at our London location to discover this interactive kiosk yourself and learn about some fish today!