Recently viewed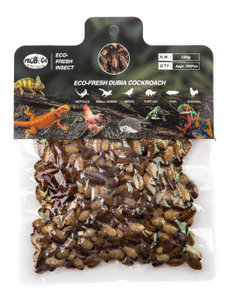 Pro Bugs Dubia Roach Bulk Pack
C$

39.99

Excl. tax
In stock (1)

Unit price: C$0.00
Specifications
Delivery time:
1-5 Business Days OR Same Day Pick up
Information
Scientific name: Blaptica Dubia

Description:
Eco-Fresh Dubia Roaches are our most popular insect.  They are very nutritious as they have a high meat to shell ratio. Many geckos and dragon breeders tell us they use Dubia to fatten up their animals.High in protein, great in building body mass.
Convenient serving size 
Vacuum sealed to preserve moisture and flavor
As nutritious as live foods
Organically farmed raised-all natural without preservatives
Sealed, each pouch has an 18 month shelf life at room temperature. Opened, each pouch is good for 5 days in the refrigerator
Recommended for:
Arowana Fish
Sugar gliders
Bearded dragons
Reptiles
Amphibians
Arachnids
Birds
Fish
Small Animals
Ingredients
Dubia Cockroach, water
Guaranteed Analysis
Phosphorus (min) 0.2%