Recently viewed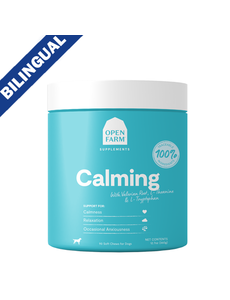 Open Farm Supplement Calming
C$

45.29

Excl. tax
In stock (2)
Unit price: C$0.00
Specifications
Delivery time:
1-5 Business Days OR Same Day Pick up
Information
Our chew-able supplements are formulated with purely 100% traceable ingredients to help support your dog's specific needs.
Support For:
Calmness
Relaxation
Occasional Anxiousness
Ingredients:
Apple Powder, Citric Acid (Preservative), Calcium Ascorbate, Coconut Oil, Distilled White Vinegar, Mixed Tocopherols, Natural Flavor, Oat Flour, Organic Honey, Sunflower Lecithin, Sweet Potato Powder, Vegetable Glycerin, Water.
Guidelines:
Supplement ONLY.