Recently viewed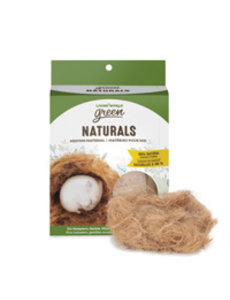 Living World Green Naturals Nesting Material - Kenaf fibre
C$

4.99

Excl. tax
In stock (1)

Unit price: C$0.00
Specifications
Delivery time:
1-5 Business Days OR Same Day Pick up
Information
Is made from 100% natural kenaf fibers
Makes a highly absorbent nest material
Is designed to encourage the natural nesting instinct of small animals
Provides safety and comfort for sleeping and nesting
Keeps the animal cool in summer and warm in winter
Suitable for hamsters, gerbils, mice and other small animals
Manual:
Apply a generous layer of kenaf nest material in the small animal habitat. Add more when necessary. Change it every 2-3 weeks or as needed.
Component:
100% natural kenaf fibre
Warning:
If you notice significant deterioration of the product, remove it from your small animal. Do not let him ingest any pieces of this product. This product is not intended or suitable for children.