Recently viewed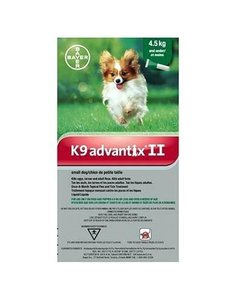 Bayer Advantix II Small Dog 4.5kg and Under
C$

92.99

Excl. tax
In stock (2)

Unit price: C$0.00
Specifications
Article number:
727804566999
Delivery time:
1-5 Business Days OR Same Day Pick up
Information
What is K9 Advantix® II?
A monthly topical application that starts to work before fleas and ticks bite, protecting your dog from future infestations and unnecessary bites
Controls fleas (including all life stages) and all major species of ticks including deer ticks that can transmit Lyme disease. K9 Advantix® II also kills lice and mosquitoes
Reduces biting from mosquitoes and stable flies
Remains effective after swimming and bathing*
*Flea shampoo, medicated or human shampoos, and/or dish detergents are not recommended
Do not use K9 Advantix® II on cats.
How does it work?
K9 Advantix® II is applied to the skin down the back of the dog. From there, it spreads evenly as a thin layer over the skin surface and is locked in the oils of the dog's skin rather than being absorbed internally. When parasites such as fleas, ticks, mosquitoes and lice come in contact with the skin of a treated dog, the parasites' nervous system becomes affected. The parasites quickly become uncoordinated and die. K9 Advantix® II works through contact and does not require the pest to start feeding on your pet in order to be killed. Reducing biting keeps pets comfortable and can help to prevent disease transmission.
How does K9 Advantix® II benefit my dog and my family?
Comfort
Some flea and tick products have to be fed to your dog. This means that fleas and ticks have to bite your pet and keep biting until enough of the drug has been absorbed by the parasite. The active ingredients in K9 Advantix® II stay on the outside of the pet where they can kill pests through contact. Biting is not required!
Proven
K9 Advantix® II provides protection against a broad range of parasites, including deer ticks which can transmit Lyme disease. It even controls all life stages of fleas (not just the adults).
Peace of mind
The active ingredients in K9 Advantix® II stay on the outside of the pet. It is safe for puppies from 8 weeks of age and is suitable for most elderly dogs and pregnant pets, too!