Recently viewed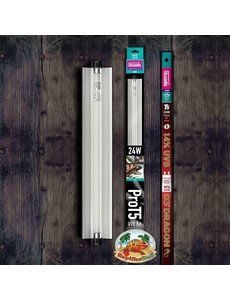 Arcadia PRO T5 UVB Kit W/ 14% Dragon Lamp
C$

99.99

Excl. tax
Out of stock

Unit price: C$0.00
Specifications
Delivery time:
1-2 Weeks for most (Please call for precise restock times)
Information
ProT5 is a highly adaptable professional lighting kit with high quality internal electronics, a highly effective but removable reflector, power cable, fittings/mounting kit, and free link cable.
This easy-to-use Kit can be fixed easily inside of a vivarium with just 2 screws, rested upon a wire mesh-top glass terrarium, hung above an enclosure or hung within (where safe to do so). Its sleek design and specially curved reflector will ensure that you take up less space but project as much light forward as possible.
Dragon Lamp Info:
High 14% UV-B content to support desert reptile species synthesis of vitamin D3
The Arcadia Reptile 14% UV-B 'DragonLamp' is our most powerful HO-T5 reptile lamp. Made in Germany by experts to provide not only high quantities of UV-B radiation but to also provide this energy without any limitation to the colour and quantity of visible light.
Increased light & UV-B
Long life, 12 month lifespan before a change is required
Made in Germany by the worlds experts
15"/35-40cm upper index basking distance
No nasty blue/purple colour
Flicker free
| | |
| --- | --- |
| UV-B | 14% |
| UV-A | 30% |
| Lumens | 800lm |
| Kelvin | 7500K |
| CRI | 95 |
Suitable for reptiles requiring high levels of UV-B, kept in large enclosures:
Bearded Dragons
Blue-tongued Skink
Frilled Lizard
Agamids
Uromastyx
Tortoises
Freshwater Turtles
Bosc Monitor