Recently viewed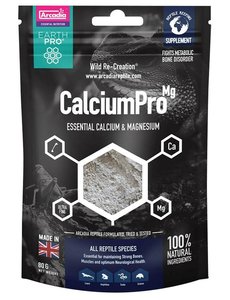 Arcadia EarthPro CalciumPro-Magnesium
C$

12.99

Excl. tax
Out of stock

Unit price: C$0.00
Specifications
Delivery time:
1-2 Weeks for most (Please call for precise restock times)
Information
1. All Natural, 2. Supercharged, 3. Essential, 4. Boost Calcium, 5. FIGHT MBD
"EarthPro-CalciumPro-Mg is supercharged with Magnesium for optimum bone, blood and nerve health, no other plain Calcium powder can compare"
EarthPro-CalciumPro-Mg has been developed to be used safely to replace sole sources of Calcium and can be fed at will. By changing your feeding cycle to include a balanced inclusion of magnesium you will help to ensure strong, firm bones, which helps to 'Eliminate MBD'.  Magnesium is a 'Supercharger' within the Calcium assimilation, storage and use cycles. Magnesium is one of the vital 'keys' to accurate Calcium provision.
Magnesium is stored within the bones and helps to regulate healthy Calcium storage. It also works alone as a critical agent with hundreds of other vital biological enzymes to help regulate nerve and muscle function, protein synthesis, blood pressure, blood glucose levels and plays a very useful role within the digestive system.
Magnesium is essential to life and up until now it has been largely missing from the dietary provision of many captive exotics. It is time to change the way we feed our pets, forever.
Ingredients; Calcium Carbonate, Magnesium Carbonate.
Usage; Dust on to Livefoods, Green foods and Defrosted items at every feed. Dust Livefoods in Livefood containers and target feed for best results. Can be left in a dish inside of the enclosure as with any other Calcium powder. Should be used alongside EarthPro-A and with a suitable UVB system.
** The Best Before Date indicated on the package is the UK Best Before Date, for Canada & The USA this is extended by a period of 1 Year, UK Food packing laws will only allow for a 1 year best before date. Arcadia Reptile advises all their food and supplement products dates should be extended by 1 Year for Canada and The USA.