Recently viewed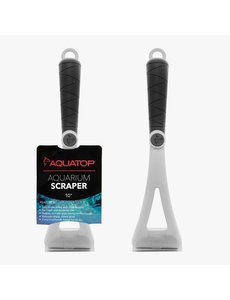 AQUATOP Glass Aquarium Scraper Non-Padded W/ Blade
C$

9.99

Excl. tax
Out of stock

Unit price: C$0.00
Specifications
Delivery time:
1-2 Weeks for most (Please call for precise restock times)
Information
AQUATOP's Aquarium Scraper is designed for use in glass aquariums (not safe for acrylic aquariums) to manually remove even the most stubborn algae from the glass viewing panels.
Easy to use heavy-duty glass scraper.
For fresh and saltwater use.
Rubber non-slip grip with a strong no-flex handle.
Removes Algea and cleans glass.
Long handle keeps hands dry. 
Specifications and Safeguards:

For glass aquariums only, do not use on acrylic aquariums.
Use caution when scrubbing glass near the substrate not to allow any sand or gravel between the scrubber and the aquarium wall. This may cause scratching.
Always rinse the aquarium scrubber under freshwater from the faucet after each use.