Recently viewed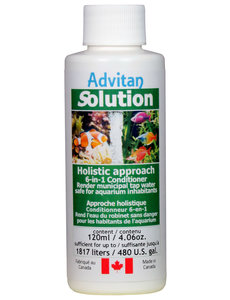 Advitan Solution 6-in1 Conditioner
C$

7.79

Excl. tax

C$12.99 Excl. tax
In stock (3)

Unit price: C$0.00
Specifications
Delivery time:
1-5 Business Days OR Same Day Pick up
Information
Advitan Solution is a comprehensive, 6-in-1 aquarium water conditioner. It immediately takes control of the municipal tap water preventing harm to living organisms in fresh and saltwater aquariums.
Advitan Solution reconditions the standard* tap water used, thereby providing safeguards and more.
Advitan Solution reduces fish stress, because it:
• Neutralizes the harmful effects of chlorine, chloramine, toxic metallic ions and fluoride
• Protects fish mucous membranes
• Enhances the well-being of livestock including plants in the aquarium
Applications include:
• Initial aquarium set ups
• During water changes
• Transportation of livestock
• Intoxication from biomass overload
• Arrival from long duration of transportation
Advitan Solution contains vitamins, essential minerals and botanical extracts, for optimization of aquatic animal well-being.
• A concentrated bottle of 120-ml bottle is sufficient for 480 US gallons (1817 liters) of standard* tap water.
•Due to its concentration, always keep the product away from children and household pets.
•Always shake well before dosing.
•Always close the bottle immediately after dosing.
•Refrigerate or store in a dark cool place.
•Best to finish dosing within three months after opening the bottle.
•Natural colour variation may occur and does not affect the product efficacy.
*free chlorine level up to 0.47 mg/l / total chlorine with chloramine level up to 0.89 mg/l. Areas with higher levels require higher dosage.