Recently viewed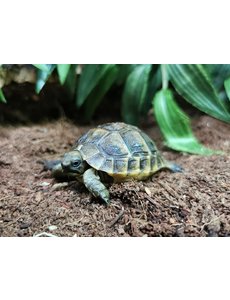 Black Greek Tortoise
C$

649.99

Excl. tax
In stock (2)
Unit price: C$0.00
***PLEASE NOTE PHOTO ARE NOT ALWAYS OF ACTUAL ANIMALS IN STOCK. EMAIL US FOR PHOTOS OF CURRENT STOCK***
Read more
Specifications
Delivery time:
1-5 Business Days OR Same Day Pick up
Information
Common Name: Black Greek Tortoise

Scientific Name: Testudo graeca

Distribution: The Greek tortoise's geographic range includes North Africa, Southern Europe, and Southwest Asia. It is prevalent in the Black Sea coast of the Caucasus (from Anapa, Russia, to Sukhumi, Abkhazia, to the south), as well as in Georgia, Armenia, Iran, and Azerbaijan.

Max Adult Size: 5-8"

Lifespan: 75-100+ Years

Diet: A variety of dark, leafy greens and other vegetables should be the majority of your tortoise's diet: collard greens, endive, fresh parsley, dandelion greens, zucchini, broccoli, and shredded carrots.

While in the future we will work towards having care sheets on our website in the meantime please feel free to call us with any question you may have regarding this species we want to ensure you have all the necessary information before making a decision on your new pet!