Recently viewed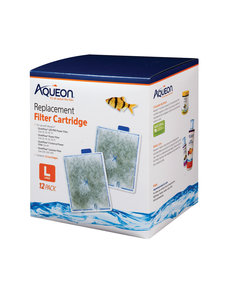 Missing Box Aqueon QuietFlow Large Cartridge 12 Pack
C$

58.49

Excl. tax

C$64.99 Excl. tax
In stock (1)
Unit price: C$0.00
Clearance - Final Sale - Missing Box
Read more
Specifications
Delivery time:
1-5 Business Days OR Same Day Pick up
Information
Aqueon Replacement Filter Cartridges are dual-sided, featuring dense-floss with over 25% more activated carbon than the leading brands. These patented cartridges were designed to ensure even distribution of activated carbon.
To use, simply rinse under cold water and easily install using the "FRONT" orientation tab.