Recently viewed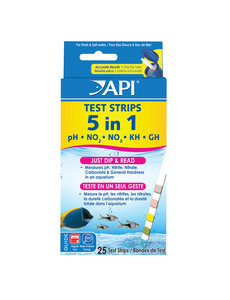 API Test Strips 25 Pack
C$

18.74

Excl. tax

C$24.99 Excl. tax
In stock (2)
Unit price: C$0.00
Specifications
Delivery time:
1-5 Business Days OR Same Day Pick up
Information
PRODUCT SUMMARY:
API® 5-in-1 Aquarium Test Strips are the quick and easy way to test the 5 most important water parameters – pH, KH, GH, nitrate, and nitrite – in one easy step. Simply dip one test strip directly into the aquarium, and compare the colors on the strip to the color card provided to help prevent invisible water problems that can be harmful to fish. Each kit includes detailed information on how to interpret the test results and correct unsafe water conditions.
We recommend that you take a few minutes each week to monitor your aquarium conditions and create a better underwater world for your fish. Testing your aquarium water has never been so easy or accurate!