Recently viewed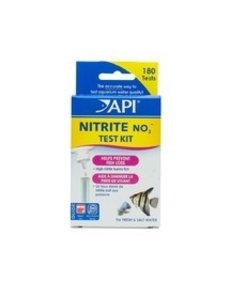 API Nitrite NO2 Liquid Test Kit
C$

12.74

Excl. tax

C$16.99 Excl. tax
Out of stock

Unit price: C$0.00
Specifications
Delivery time:
1-2 Weeks for most (Please call for precise restock times)
Information
PRODUCT SUMMARY:
Nitrite is produced in the aquarium in the forms of fish waste, uneaten food, and by nitrifying bacteria in your aquarium's natural cycle as it breaks down ammonia. Low levels of nitrite inhibit respiration and suppress the immune system, while high levels cause suffocation in fish. The API® Nitrite Test Kit reads nitrite levels quickly and accurately in your tank, and tests parameters from 0 to 5 ppm. With the Nitrite Test Kit, you can be sure that nitrite levels in your aquarium are always safe for your fish!
We recommend that you take a few minutes each week to monitor your aquarium conditions and create a better underwater world for your fish. Testing your aquarium water has never been so easy or accurate!
SIZE:
Contains 180 tests and includes 1 test solution, easy-to-ready instructions, glass test tube and color chart