Recently viewed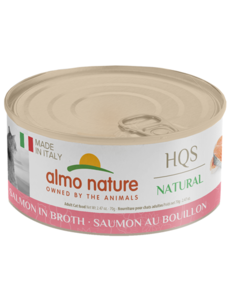 Almo Nature HQS Natural Made in Italy Salmon in Broth 70g
C$

2.19

Excl. tax
In stock (1)
Unit price: C$0.00
Specifications
Delivery time:
1-5 Business Days OR Same Day Pick up
Information
L.I.D. (limited ingredient diet) cat food with 100% HQS meat and fish as the first ingredient.

HQS (High Quality Sourced) means that the meat or fish used was originally fit for human consumption and is now used in Almo's dog or cat food.

A high energy source, supplemental food without any additives. Contains only natural proteins, vitamins and essential amino acids, such as taurine, lysine, methionine and others. Shredded cuts preserved in cooking broth.


Grain-free
Hormone-free
High restriction standards for heavy metals
Carrageenan-free

Ingredients:
Salmon, Water sufficient for processing, Guar gum

Moisture: 85.5%
Crude Protein: 10%
Crude Fat: 0.7%
Crude Fiber: 0.2%
Ash: 1.5%
Energy: 650 kcal ME/kg, 45.5 kcal ME/2.47oz. can